Field Day
We're sorry, this event is at capacity! Please see our events page for future opportunities to join us on the land.  There is still space to attend the concert by Musica Sierra at Lost Marbles Ranch in the afternoon and enjoy the beauty of Sierra Valley. Get your tickets here.
Sunday, June 12th, 9 am–12 pm
Check out FRLT's new West Entrance to the Sierra Valley Preserve and meet FRLT staff and volunteers. Take a guided nature walk along our botanical trail with a California Naturalist, learn about the valley's history, and join our Executive Director for a talk about future plans for a nature center and more trails at the Preserve.
Make it a day in the valley!
After enjoying the Preserve, head over to Lost Marbles Ranch for lunch and a special concert presented by Musica Sierra (separate ticket required). See below for details and ticket information.
Photo by Vanessa Vasquez
Photo by Andy Wright/LightHawkPhoto
Event Details
(Sorry, registration for this event is full)
Sunday, June 12 | 9 am to 12 pm
at the Sierra Valley Preserve West Entrance
What to bring: The day will include up to 2 miles of walking along the well maintained trails at the Preserve, so sturdy walking shoes are advised. Visitors will also can choose to join for only a portion of the walk and ADA access is available (see below). Weather can change fast in Sierra Valley! Be sure to wear comfortable outdoor clothing (layers are ideal), bring sun and wind protection, and any snacks you may need. If you have binoculars, bring them along, so you can look for birds and other wildlife along the trails. You may also wish to bring a small folding chair or camp chair to take a rest in during our Executive Director's short presentation on future plans at the Preserve. Seasonal porta-potties are available at the parking area and near the Bulson House.
Parking & Directions: Participants should park and meet at the West Entrance of the Sierra Valley Preserve located near Beckwourth, CA on County Road A-23 approximately 2.7 miles south of the Highway 70 junction. Google Map
Accessibility: The West Entrance has ADA compliant parking and accessible sections of trail with beautiful views of the wetlands and wildlife habitat. If you have a disability and would like a gate code for ADA access to the parking and trail beyond the West Entrance primary parking lot, please let us know when you register, or call (530) 283-1793.
Musical Headwaters "Trout": Fire & Grace & Ash
at Lost Marbles Ranch
After exploring the Sierra Valley Preserve, head on over to Lost Marbles Ranch for food and a special concert with Musica Sierra!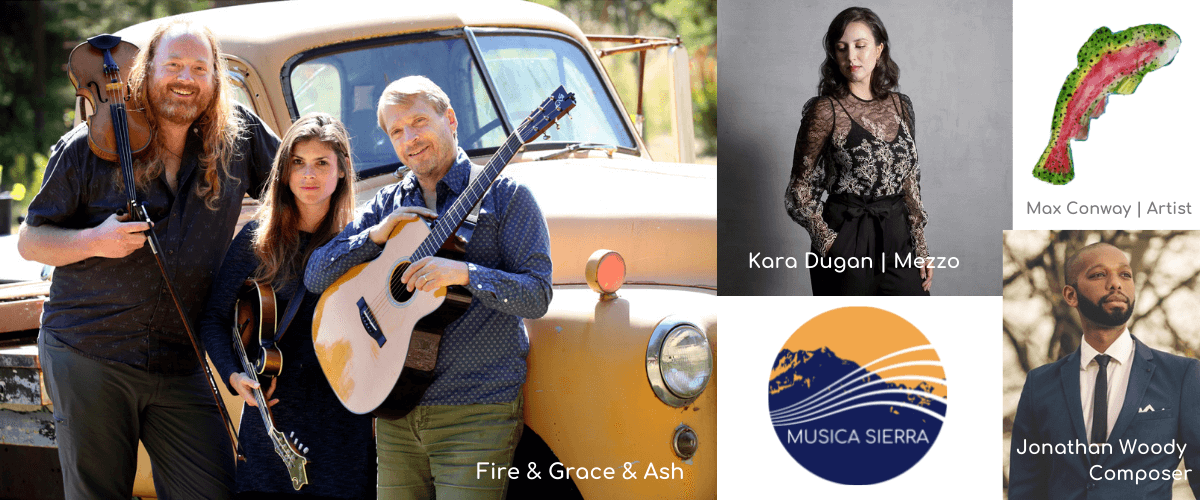 Sunday, June 12
Lunch: 12 pm
Concert: 1:30 pm – 3:00 pm
Musica Sierra tackles its second year of Musical Headwaters, featuring a new song cycle co-written by Edwin Huizinga and Jonathan Woody called "I am a Trout." This incredible program features Fire & Grace & Ash, with vocalist Kara Dugan. Fire & Grace & Ash is a dynamic trio made up of ace mandolin player and composer Ashley Broder, acclaimed violinist Edwin Huizinga, and Grammy award-winning guitarist William Coulter.
The program will premiere a new song cycle inspired by the native trout found in the Sierra. This composition will explore the musical feel of folk Americana, particularly that of Northern California. The rest of the program will feature a blending of Bach and American fiddle tunes from the trio's recent album Partita Americana.
Lunch will be catered by EATS Cooking Co. and will feature fresh locally sourced ingredients!
Be sure to get your tickets for both the lunch and concert at Musica Sierra's website.
Get the latest
Sign up for updates and event invitations