The Next Generation of Land Stewards
For the 2021 field season, FRLT partnered with the Sierra Nevada Alliance and AmeriCorps to hire Sierra Nevada AmeriCorps Partners (SNAP members) to assist with hands-on stewardship, landscape and wildlife monitoring programs on conserved lands, and public outreach. While COVID and wildfires limited outreach programs and events, our SNAP members, Peter Rody and Nico Hillman, added additional staff capacity to this lean-but-mighty land trust. Both brought unique skills, relevant academic and work experience, and can-do attitudes necessary for the wide range of work FRLT does across the watershed.
About Nico and his projects
Nico is a recent graduate from Cal Poly San Luis Obispo, where he studied Environmental Sciences with an emphasis on soils and hydrology. Nico had wanted to live in the Sierras since he was young and was elated to travel North to help protect the beautiful lands of the Feather River. 
From May through September, Nico's primary responsibilities included noxious weed control across several acres and the caring for a native plant project on the Leonhardt Ranch Learning Landscape property in Quincy.  Nico also designed, tested, and trained staff on an improved property patrol log needed for Land Trust Alliance compliance and FRLT management goals. He also assisted with social media communications and conservation easement monitoring and reporting. 
This fall, Nico will be moving to Imperial Valley to apply his background in soils by working with the Natural Resources Conservation Service (NRCS). Nico feels that the organizational skills, land management planning and project implementation, and general land conservation knowledge he gained at FRLT will translate well to his new career.  
I really enjoyed working with everyone at FRLT and getting to know this gorgeous area. Even after the fires have ravaged so much, there's an incalculable amount of good to be protected in the watershed. It'll be amazing to see this land and its communities recover, and I'll be watching intently whether from here or afar.
—Nico Hillman, SNAP member
About Peter and his projects
Peter's roots began in Colorado, where he was raised in the foothills west of Denver and fell in love with the natural world during adventures in the Rocky Mountain Highcountry. Upon escaping high school, he left the country with no intention of following a traditional, four-year educational path, however, his passion for the environment eventually led him to a degree in Environmental Geoscience from the University of Colorado at Boulder. From there, a stint with the Forest Service led him to Alaska, Montana, Idaho, and Washington doing fisheries and trail work, and in the process, he discovered a passion for watershed restoration.  
Peter brought this background to FRLT for the five and a half months term based out of the Quincy office. As his primary project, Peter designed, implemented, and wrote the accompanying protocol to a new trail camera program for the land trust. Wildlife and recreation imagery and data will be used both for land management and planning, and as a communication tool for FRLT's website, social media, and grant proposals. Peter's data-driven trail camera project will live on in use across FRLT preserves for many years to come. 
Concurrently, Peter assisted with the annual conservation easement monitoring and reporting throughout the field season. He continued work on an existing beaver-bypass project and performed invasive-weeds management with Nico on the Leonhardt Ranch Learning Landscape. Peter also volunteered some time with conservation partners South Yuba River Citizens League in Nevada City, and the Big Chico Ecological Reserve near Chico.  
As his time with Feather River Land Trust comes to an end, Peter's path forward is not yet crystal clear as he weighs grad school options. His diverse interests and adventurous nature may convince him to scrap it all and start a coffee truck.  
The first look through trail cam photos always feels like a bit of a lottery. You page through hundreds of photos of sage brush till you come across a gem. The quiet glimpse into the lives of the local wildlife, and the opportunity to share them, has been a highlight."
—Peter Rody, SNAP member
Teamwork makes the dream work
FRLT partners with local and regional organizations to provide real-world stewardship projects and work experience for youth and early-career adults in conservation, restoration, and land management fields.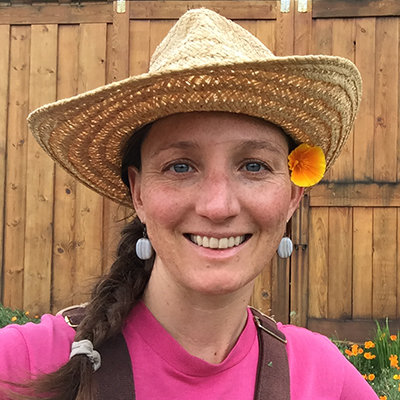 Vanessa Vasquez
People & Land Program Coordinator
From 2013 to 2022, Vanessa Vasquez coordinated FRLT's People and Land Program to restore and enhance human connections to the Sierra's largest watershed. She implemented nature-based education projects and collaborated with the FRLT Stewardship Department to improve our Preserves for public enjoyment. She also served as an integral part of our communications team.