Get to know the Feather River Watershed
Our preserves offer a diversity of experiences within the Sierra's largest watershed. Meander flower-filled meadows and oak woodlands, view shorebirds and songbirds in lush wetlands and among rolling sagebrush, or explore hand-crafted barns and walk a neighborhood trail. Each preserve showcases a different aspect of the Lost Sierra. As a local land trust, FRLT owns and manages these lands for diverse uses including nature-based recreation and outdoor education.
Explore what makes our watershed special
With some of the lowest population density in California, the Feather River region is a place of big pines, quiet river spots, and small towns. FRLT's preserves are located in five distinct communities and each has a different story to tell with its history and unique habitats. Our work is more than conserving land; it's also about conserving and restoring people's relationship to land. Let's get out there and explore!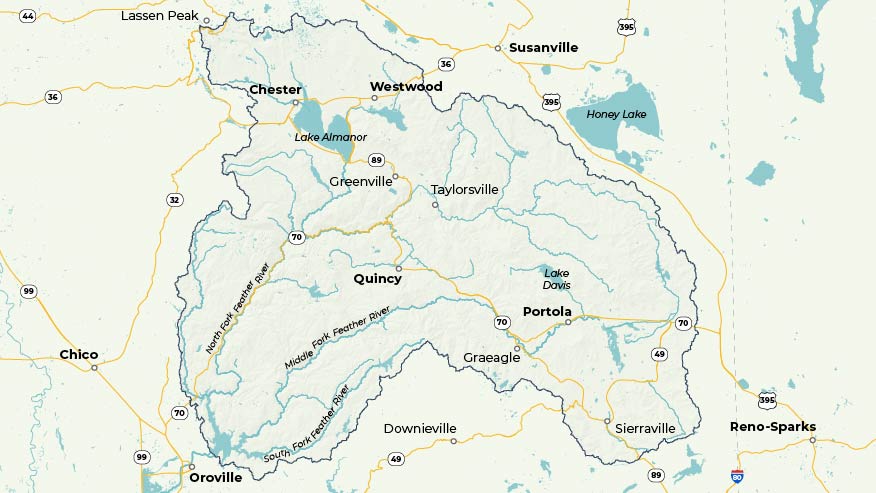 1
2
3
4
5
FRLT Preserves
Sierra Valley Preserve
Highlights
World-class birding and the only year-round public access to the wetland and meadow ecosystems of Sierra Valley.
Recreation Activities
Birding, Cross Country Skiing, Interpretive Trail, Photography, Picnicking, Road Biking, Walking, Wildflowers
Leonhardt Ranch Learning Landscape
Highlights
An easy interpretive trail out into beautiful American Valley for walking, jogging, and birding right from the town of Quincy.
Recreation Activities
Birding, Cross Country Skiing, Interpretive Trail, Photography, Walking
Heart K Ranch
Highlights
A historic working ranch and biodiversity hotspot in the heart of the Feather River Watershed.
Recreation Activities
Birding, Fall Foliage, Fishing, Photography, Picnicking, Road Biking, Swimming, Walking
Mountain Meadows Gateway
Highlights
Walking access to Mountain Meadows Reservoir, excellent bird habitat in old-growth willow stands along Robbers Creek, and big views of Keddie Ridge.
Recreation Activities
Birding, Cross Country Skiing, Photography, Picnicking, Walking, Wildflowers
Olsen Barn Meadow
Highlights
Access to the North Fork of the Feather River, a 130+ year old barn in a picturesque open meadow, walking paths, wildlife, and views of Lassen Peak and Lake Almanor.
Recreation Activities
Birding, Cross Country Skiing, Fall Foliage, Fishing, Photography, Picnicking, Swimming, Walking
Before you visit
FRLT's preserves are private property managed for diverse uses. We steward our lands to best protect the environment, sensitive wildlife habitats, and the human connection to nature. Most are rustic and natural with only amenities needed to provide low-intensity recreation and occasional group outings. Please read our general guidelines before visiting the preserves.
Dogs
Photography
Large Events
Hunting & Fishing
Kayaking & Canoeing
Plants & Collecting
Dogs
Dogs are permitted on three of our five preserves and we require pet owners to be responsible for their fluffy friend (dogs are not permitted at the Leonhardt Preserve or at the Sierra Valley Preserve). Dogs must either be on-leash at all times or be under *voice control. ALWAYS clean up after your pet! Don't be surprised if there are times when four-legged friends are not permitted. If a preserve has breeding and nesting wildlife, seasonal grazing, or other land management activities, we reserve the right to close areas and trails to dogs at any time. We will post signs and update the preserve page.
*Voice Control means: Dog is always within view and voice range, dog comes at first calling, and dog may not approach people in a threatening manner or in any way harass people, wildlife, or other animals.
Photography
A picture is worth a thousand words! Photography is a favorite activity at our beautiful preserves. From spring flowers to fall colors to amazing winter wildlife, we love seeing photos from our communities in the Lost Sierra! If you're a professional photographer and are planning a portrait photo shoot, to teach a photography class, or to bring lights, gear, and/or fly a drone on our conserved lands, please contact us first: info@frlt.org or (530) 283-5758.
We are so grateful to all the photographers who have donated hundreds of amazing images to FRLT over the years.
Large Events
Please follow all State and Local Public Health guidelines for social distancing due to COVID-19.
At this time FRLT is not hosting large, private events or weddings on our preserves. As a non-profit conservation organization these types of activities are not within our current scope of work. We do however encourage low-impact, nature-based events, workshops, and field trips. If you are interested in gathering on our lands please contact us—we'd love to hear from you. An event permit is required for all non-school related events. Fill out the form below to inquire. 
Hunting & Fishing
We value and understand the importance of the human connection to sustainable food resources and wildlife. 
Some of our preserves offer access to fishing on the North Fork of the Feather River, the Middle Fork, and Indian Creek. Please follow our other preserve guidelines and all CDFW regulations. You must have a current fishing license. We strongly encourage a catch-and-release ethic, especially on Indian Creek and its tributaries. For more information about fishing in the watershed please contact Feather River Trout Unlimited. 
Kayaking & Canoeing
While boating in the wetlands of Sierra Valley has long been a coveted recreation opportunity in the region, the season when there is sufficient water coincides with sensitive bird nesting and migration habitat. Boating from the Sierra Valley Preserve is regulated seasonally, so please check our boating guidelines before planning a trip. If you have questions, please call our office at (530) 283-5758. 
Plants & Collecting
Wildflowers, pollinators, and rare plants thrive on our protected lands. Please do your part by not picking wildflowers so that insects, birds, and other humans can enjoy them.  Think you found something special (or just extra pretty)? Snap a picture, share on iNaturalist, and/or send us an email. We love knowing what flowers are blooming and when. Plants are more than just flowers. Many plants in our watershed have a connection to the human communities that have lived here since the beginning of time. Out of respect for local indigenous people (and sensitive ecosystems) we ask that you do not wildcraft or gather herbs and plants on our lands. As a general rule take only photos.
Get the latest
Sign up for updates and event invitations
About the Feather River Land Trust
The Feather River Land Trust is a non-profit, member-supported organization that conserves private lands for the public good in the Feather River Watershed. Together with willing landowners, we are working to protect clean water, wildlife habitat, open space, and the human connection to the land.