Fire in Nature: Wildlife
Driven by climate change, drought, and overstocked forests, the size and severity of wildfires have escalated across the West in recent years, including megafires that have destroyed homes, damaged communities, and disrupted ecosystems. Since 2017, over 57% of the upper Feather River Watershed has burned—due to megafires like 2020's North Complex Fire and 2021's Dixie Fire. And while it seems we're forced to confront these realities year after year, and the effects of fire can be devastating, all is not lost in our beloved Watershed.
After 2021's Dixie and Beckwourth Complex fires ravaged over a million acres in the Feather River Watershed, FRLT acted quickly to form a team of advising experts and launch a 3-year Fire Recovery Initiative on FRLT-conserved lands. We recently interviewed two members of our Fire Recovery Task Group, who bring their expertise as wildlife biologists to assess impacts of fire on wildlife and advise on our habitat restoration plans—Paul Hardy, FRLT founder and principal at Hardy Conservation, and Ryan Burnett, Sierra Nevada Director for Point Blue Conservation Science.
Life After the Burn
Nature recovering from fire
Blackened landscapes can be incredibly disheartening post-fire, but something Paul and Ryan both shared with us, which may come as a surprise, is that post-fire landscapes can support as much biodiversity as a green forest. We may look at the stretch of black trees that used to be green forest and think that those areas cannot support life, but they can become hubs for an incredible diversity of wildlife.
Dead trees, often referred to as snags, serve as food for insects and shelter for the species that come into burned areas to eat those insects. Fire beetles and a host of other insects eat the decaying wood, insect-eating birds eat the beetles and their larvae. High severity fire often leads to a verdant understory of flowering plants that provide nectar for pollinators, and food and shelter for lots of wildlife like deer, elk, bears, and many rodents.
Katie O'Hara
Katie O'Hara
Katie O'Hara
"We've studied for a long time the green forest, and what we've found was that there wasn't a lot of change over a two decade period. Then we studied the post-fire landscape and discovered the opposite—they are dynamic places," Ryan said.
"More often than not, the trunks and branches still remain, and for the first few years after a fire, a lot of species will come back. Add in all the new growth and sprouting that often occurs post-fire, and sometimes you'll get even more diversity than there was before," Paul said.
How do we reconcile these changes with the forestlands as they used to be?  
Ryan shared that scientists have determined that a range of burn severities keeps fire-prone landscapes healthy, especially where forests have become homogenized by decades of forest management that excluded fire. "We don't want a ton of high-severity fire, and we don't want no fire. We want a mix. That's the concept of pyrodiversity," Ryan explained. "If we care about biodiversity, we do want some of this high severity burn on our landscapes. We want a mixed severity of fire, a mosaic with relatively small patches of high severity mixed in."  
Scientists have determined that a range of burn severities keeps fire-prone landscapes healthy, especially where forests have become homogenized by decades of forest management that excluded fire.
—Ryan Burnett, Point Blue Conservation Science
Subscribe
Don't miss updates from FRLT
Like with our human communities, it is important to acknowledge and grieve the loss and damage done before we can move on to healing. Paul shared some species that rely on older forest habitats—raptors like Spotted Owls and Northern Goshawks and mammals like Pacific Fishers, are among the most heavily impacted by recent fires. "[Earlier in my career] I was the lead Spotted Owl and goshawk researcher on the Beckwourth Ranger District. I surveyed dozens of these territories and knew them well," Paul shared. These animals are non-migratory, and they and much of their prey are adapted to the high canopy cover provided by mid to old-growth conifer forests. "My own sense is up to half of the Spotted Owl territories on the Feather River, Mount Hough, and Almanor Ranger Districts of the Plumas and Lassen National Forests have been burned in high severity by this combination of fires, and these old forests aren't coming back in our lifetimes," Paul concluded.
While the loss of habitat for these species is heartbreaking, there are species that actually benefit from a post-fire landscape. Paul shared that many birds thrive among the bug-laden snags—species like woodpeckers, chickadees, nuthatches, bluebirds, and American Kestrels. "When the trunks still remain, cavity-nesters, many of which are insect-eaters, have an easier time boring holes into the bark to get insects and make nests, and there are more insects to be found post-fire," Paul explained.
Photo by Bettina Arrigoni/Flickr (CC by 2.0)
FRLT Staff
Katie O'Hara
There are also some plant species that regenerate or resprout quickly after a fire, providing forage for grazing and browsing mammals like elk, deer, and even pronghorn. On FRLT-conserved lands, Paul is seeing black oak resprouting at Puma Robles, aspen at Spring Creek Ranch, and willow and cottonwood at the Heart K. "The main body of the oak has been killed but the root system resprouts, and the same can be said for many riparian species like aspen, cottonwood, and willow," Paul shared. Some plant species, like our native lilacs (Ceanothus spp.) are stimulated to germinate from heat and flourish after fire.
In studying post-fire habitats in the Feather River Watershed, Ryan recalled a unique experience in the Moonlight Fire area, "Two years after the fire there were whole hillsides covered in wildflowers, there were so many Rufous hummingbirds using this unique resource, they considered wearing goggles to avoid being hit by them." Ryan said it helps him to view habitats through the eyes of birds and other biodiversity, where he will see a landscape rich with unique resources, not found outside of burned landscapes in the Sierra. One of his favorite memories he shared with us was seeing over fifty Lewis' Woodpeckers migrating over the Sierra crest from the Moonlight Fire to wintering grounds in the foothills. "After nearly a century of fire suppression, these high severity burned areas do provide something unique and valuable, we shouldn't assume all is lost."

FRLT/Kristi Jamason
FRLT/Kristi Jamason
FRLT/Kristi Jamason
Wildlife species don't despair, they just act. By their very being and behavior they have hope.
—Paul Hardy, Hardy Conservation and FRLT Founder
Restoring and reforesting
When working alongside nature to heal and restore the landscape, there are several factors to consider. "Something our team has been doing is climate modeling. Even if there weren't fires, there are some areas that will likely become more oak and shrub dominated, and those are places we likely won't do reforestation for conifers," Paul shared from the Fire Recovery Task Group planning.
Ryan expressed similar thinking, saying, "In a place like this, where we have a million acres burned, we really have to do a good job of prioritizing where we want forests back." The places most responsive to conifer reforestation will be north-facing slopes, higher elevations, with rich moist soils. 
In regions where reforestation is not viable, the conifer forestland will begin complex early seral forest—high densities of standing dead trees (aka snags) and fire-following plants—and transition to montane chaparral. This is not always negative, Ryan said, "montane chaparral patches are little islands of biodiversity—lots of birds, butterflies, bees, and bears—in the conifer sea. There isn't any nectar in a conifer tree."
Support fire recovery on Feather River lands
We need your help as we work toward an ecologically sound recovery on the lands we've conserved, together.
Beyond the forests

–

meadows, wetlands, and riparian areas

Wetlands also benefit in the post-fire landscape. This can be seen in the rapid regrowth in lower wetland areas after fire, a result of fewer trees in the upland area and less competition to absorb water. "Some willows along Spring Creek near Frenchman Lake and Indian Creek on the Heart K have grown three to four feet in only one spring, and birds are already nesting in them," Paul said.

Riparian habitats can function as refugia for wildlife during and following fires as riparian plant species resprout quickly, providing green habitat in the blackened landscape. "One thing we're seeing is that a lot of species seemed to use the riparian areas as refugia during fire and after the fires. During the fires, as safety from heat, and then in general, because those those areas burned less severely, they can function as refugia from which many species repopulate adjacent habitats that burned in higher severity," Paul explained. Restoring wetlands and keeping them well saturated will provide fire relief and resilience in the years to come.

FRLT prioritizes conserving meadows, wetlands, and riparian habitats in the Feather River region's large, open valleys for their importance to climate resilience, wildlife, and water. Conserved areas like the Sierra Valley Preserve, Olsen Barn Meadow, and the Heart K, and other FRLT-conserved wetlands are biodiversity hotspots in the Feather River Watershed—providing important habitat for waterfowl, song birds, and mammals, including many of our threatened and endangered species.

These four images are from FRLT's Heart K Ranch during the Dixie Fire of 2021, where our trail camera captured a black bear, a Great Blue Heron, and several groups of deer in the wet corridor during the dates of the fires. The Dixie Fire ignited on July 13, 2021, was contained on October 25, 2021, and burned over 900,000 acres in Northern California.
FRLT
FRLT
FRLT
Looking ahead with hope
Something Paul and Ryan reminded us of is that fire has been a natural part of our ecosystem for millions of years. For thousands of years, Indigenous traditional practices have included using fire as a tool for tending the forest, but as colonial industrialization took control of wood production, there has been less and less use of fire and Indigenous Traditional Ecological Knowledge.
With climate change, removal of the largest, most fire-resistant pines, coupled with a 100-year legacy of fire suppression, the scale and severity of fires has increased dramatically, but the land needs to burn to sustain a diverse array of plants and wildlife. Life in our region and beyond is a constant dynamic process of adaptation and balance, for humans, plants, and animals alike.
When speaking about what gives him hope, Paul highlighted the number of people who care so much and are working so hard to restore our communities and landscapes. He also shared how wildlife species give him hope—"Wildlife species don't despair, they just act. By their very being and behavior they have hope."
It will take continuous work and many partners to help the Feather River region recover and heal from fire, and to make these landscapes resilient to future fires. And it can only happen by working together. To learn more about FRLT's ongoing work to restore conserved lands affected by fire and how you can help, read our Fire Recovery Plan.
Meet Paul Hardy
FRLT founder and principal at Hardy Conservation
As a conservation professional with 30 years of experience, Paul assists FRLT as a conservation and land management consultant. Paul helped launch FRLT and served as Executive Director for 17 years, worked as a wildlife biologist on the Plumas National Forest, and ​co-created the Sierra-Cascade Land Trust Council and Northern Sierra Partnership.
Meet Ryan Burnett
Sierra Nevada Director for Point Blue Conservation Science
As the Director of the Sierra Nevada group, Ryan oversees Point Blue's work on understanding the ecology and improving the conservation of the Sierra Nevada ecosystem. Ryan is particularly interested in using birds as indicators to guide and evaluate land management and conservation decisions working closely with a diverse suite of partners.
Explore Conserved Lands
Spring Creek Ranch
Conservation Focus
Puma Robles Ranch
Conservation Focus
Diamond G Ranch
Conservation Focus
Warner Valley
Conservation Focus
Maidu Cemetery
Conservation Focus
Home Ranch
Conservation Focus
Maidu Wetlands
Conservation Focus
Butt Valley Reservoir
Conservation Focus
Maidu Trail
Conservation Focus
Maidu Forest
Conservation Focus
Tásmam Koyóm (Humbug Valley)
Conservation Focus
Mountain Meadows Reservoir
Conservation Focus
Wolf Creek Ranch
Conservation Focus
Bucks Lake
Conservation Focus
Pearce Family Ranch
Conservation Focus
Rogers Key Brand Ranch
Conservation Focus
Hollitz Ranch
Conservation Focus
Genasci Ranch
Conservation Focus
Trosi Canyon Ranch
Conservation Focus
Balderston Ranch
Conservation Focus
Harris Ranch
Conservation Focus
Hill Ranch
Conservation Focus
Potter 8 Ranch
Conservation Focus
Church Ranch
Conservation Focus
Loyalton Learning Landscape
Conservation Focus
Sierra Valley Farms
Conservation Focus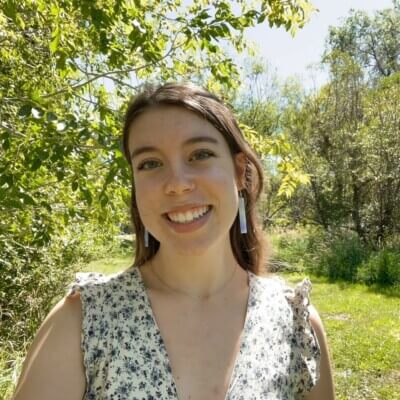 Sophia Micheletti
Development & Communications Associate
Sophia works with the Fund Development team to communicate FRLT's vision, goals, and successes. She uses her passion for storytelling to share about the Land Trust's projects through social media, e-newsletters, and blog posts like this one.