At the Sierra Valley Preserve
Just south of the town of Beckwourth lies the only place in the wide expanse of Sierra Valley that is publicly accessible—FRLT's Sierra Valley Preserve. Visitors to the 2,586-acre Preserve at the headwaters of the Wild and Scenic Middle Fork Feather River can already enjoy 360-degree views, nearly 3 miles of interpretive trails, and incredible birding from the wetland-edge wildlife viewing platform.
Now, we're working with partners to create even more trails and a new headquarters and nature center for learning and stewardship at the Preserve.
Fast Facts
What: A new hub for nature-based learning, recreation, and stewardship

 

Why: To share Sierra Valley's beauty, biodiversity, and cultural significance

 

Where: At the Preserve's northwest corner on County Road A-23, where some infrastructure already exists (new construction not near sensitive habitats)
When: The Preserve is open year-round; the new nature center and headquarters to be opened in 2024

 

Partners: FRLT, Northern Sierra Partnership, The Nature Conservancy
Photo by Liz Ramsey
Photo by Andrew Wright/Lighthawkphoto
Photo by Andrew Wright/Lighthawkphoto
Coming Soon: a Headquarters at the Headwaters
A nature center at the Sierra Valley Preserve
Now, we're working with partners to create a hub for nature-based recreation and learning at the Preserve, where visitors and locals alike can experience the wonders of Sierra Valley's beauty, cultural richness, and biodiversity.
Green Design Facilities
The new Preserve headquarters and nature center have been designed using green building strategies and to fit in with the natural and historic landscape of Sierra Valley and its iconic barns. The new facilities will include:
two large, light-filled rooms—an exhibit hall introducing visitors to Sierra Valley's natural wonders and cultural history and a multipurpose events space for programs and activities

outdoor spaces: a patio for taking in expansive views, wetland overlooks, birding blinds, picnic areas, and an outdoor classroom

a headquarters for FRLT staff to offer public programs, manage and maintain trails and visitor amenities, and for the ecological stewardship and restoration of the Preserve's diverse habitats and resources
New Trails and Exhibits
Beautiful exhibits and new trails will invite visitors of all ages to:
Get to know to the natural wonders of Sierra Valley and expand our skills as naturalists

Learn about the relationship of Washoe and Mountain Maidu people to land and place in Sierra Valley

Discover why conserving and restoring the Sierra Nevada's natural systems is more important today than ever—to protect water supplies and biodiversity and increase our resilience to climate change
Find out about green building strategies used at the Preserve, like solar power, straw bale insulation, water conservation and recycling, and waste reduction
Get involved!
Special Programs and Events
With this new indoor space, we'll be able to host exciting talks, workshops, and events in the evening and year-round, such as:
Guided events to learn about topics like birds, botany, soils, astronomy, nature journaling, and plein air painting
Field trips and workshops for K-12 students from throughout the Feather River region and beyond.
Volunteer stewardship, trail, and restoration days
A Sierra Valley Bird Chautauqua and guided field tours co-hosted with experts like Plumas Audubon Society, San Francisco State's Sierra Nevada Field Campus, and UC Berkeley's Sagehen Field Station
Events and lectures on topics from natural history to sequestering carbon in Sierra meadows for climate resilience
Timeline
June 2021: Kicked off fundraising—the Campaign for the Sierra Valley Preserve
Sept 2022: Secured permits and began construction
Dec 2023: Complete construction and exhibits
Spring 2024: Grand Opening
I am thrilled with FRLT's plans to expand access and educational opportunities at the Preserve. It will bring more visitors to the area and my business and will enhance the experience and connection for us all.
—Chelsea Johnson, owner of the Gilded Drifter Inn, Loyalton
The tremendous bird diversity in Sierra Valley has made it a magnet for birders from all over the west. By providing top-notch information, engaging programs and improved accessibility, the visitor facilities will enrich everyone's experience, both visitors and residents alike.
—J.R. Blair, former Director, Sierra Nevada Field Campus, San Francisco State University
The Sierra Valley Preserve will be an outstanding new destination for nature-based tourism, drawing hundreds of new visitors to Sierra Valley every year, with benefits for everyone in the hospitality industry.
—Lauren Knox, former City Manager, Portola
I've been supporting the FRLT mission for several years. The best way to ensure long term conservation of such a unique space and its natural resources is through on-site field education. A dedicated center for this educational end would be a fantastic resource for K-12 and general population use.
—Scott Chadwick, Neighbor and local landowner
1
Protect Natural & Cultural Resources
Protect and manage an ecological refuge for water, wildlife and people at the headwaters of the Middle Fork Feather River
2
Connect People to Nature
Nurture and deepen people's relationship to the land through nature-based education, recreation, and stewardship activities ​
3
Ecotourism & Economic Growth
Enhance the local economy by creating an outstanding new destination for nature-based tourism​
4
Collaborate for Climate Resilience
Foster collaboration with landowners, public agencies, scientific institutions and other entities​
Help Make the Vision a Reality
We're excited about creating a spectacular interpretive and educational center to share the wonders of Sierra Valley with visitors and local residents alike. It will be a boon for ecotourism and our rural economy, and a treasured destination in our region.
But we can't do it without you. We broke ground in Summer 2022 and the new Nature Center is scheduled to open in Spring 2024. Your support is more important than ever!
A Matching Challenge
A special opportunity for leadership gifts
We need visionary people to join us in creating this exciting new center for nature-based education and recreation in Sierra Valley. Through your generosity, you can help bring this vision to fruition and make a lasting impact for the Feather River region and beyond.
Photo by Andrew Wright/LightHawkPhoto
We need everyone's help!
We need your help to make the new nature center and headquarters at the Sierra Valley Preserve a reality. All gifts make a difference and will help us reach our goal. Together, we can make it happen. Thank you for donating today!
Photo by Jeff Bue
More about the Sierra Valley Preserve
The 2,586-acre Sierra Valley Preserve was created to protect its unique habitats, richly diverse plant and bird life, and the headwaters of the Wild and Scenic Middle Fork Feather River. And to deepen people's relationship to nature and understanding of the region's cultural history through public access and education.
A paradise for birders and nature enthusiasts, Sierra Valley holds the largest complex of wetlands in the Sierra Nevada, and is home to the greatest diversity and abundance of birds in the entire Sierra. The Sierra Valley Preserve offers the only year-round public access where people can get out on the land and experience this breathtaking landscape and its extraordinary biodiversity. 
The Preserve's East Entrance, accessible from County Road A-24 (at the Maddalena Corrals) features a 3/4 mile interpretive trail, leading to a wildlife viewing platform overlooking the wetlands. In 2021, the Preserve's new West Entrance opened (accessible from County Road A-23), with a beautiful welcome kiosk and 2 miles of new interpretive trails including the Rebecca Wenk Botanical Trail, the Bluff Trail, and the Jenner Mountain Overlook.
Get the latest
Sign up for updates on our work and upcoming events
Working Together for the Sierra Valley Preserve
FRLT worked together with local landowners, the Northern Sierra Partnership, and The Nature Conservancy over many years to assemble the 2,586-acre Sierra Valley Preserve, strategically located where the braided channels through the Sierra Valley wetlands converge to form the Wild and Scenic Middle Fork Feather River. In 2019, FRLT acquired the most recent addition—the 50-acre Marshall property on the northwest corner of the Preserve, which will be the location for the new Preserve headquarters and nature center.
Read the Sierra Valley Preserve conservation story
Now, FRLT and our key partners are working together to enhance this special landscape and create a permanent new center for ecological learning and stewardship in the northern Sierra, a place where people of all ages come together to learn about the natural world that sustain us all.
Together, we've launched the $6.7 million Campaign for the Sierra Valley Preserve to bring this vision to fruition and build the new indoor facilities and exhibits, stewardship workshop, new interpretive trails, wetlands overlooks and birding blinds, an outdoor classroom, and other visitor amenities. We're leaving no stone unturned, and leveraging both public and private money from foundations and generous individuals. Three generous donors sponsored a $3 million Campaign Challenge to kick off this effort (matching gifts of $10,000 or more). We're getting close to meeting our goal, and are confident that, with your support, we will reach it. Construction is underway and we need your help to get the project to the finish line!
Planning informed by our local community
In planning for expanded public facilities at the Preserve, we conducted an extensive community outreach process with recreationists, community leaders, business owners, teachers, non-profit leaders, educators, neighbors, local government officials, and other interested community members to brief them about the project and solicit their input. These findings are helping to guide priorities for the Preserve and inform its management and public access plan. 
Expert partners in ecological and interpretive design and cultural history
We're excited to be working with some of the best firms in the industry for ecological and interpretive design, including Arkin Tilt Architects, Farallon Media, and Weldon Exhibits. The team includes experts who have created interpretive exhibits at the Monterey Bay Aquarium and the California Academy of Sciences, and consulting representatives from the Mountain Maidu and Washoe Tribe of Nevada and California. 
Together, we can make it happen!
Join us! Help create a nature center for learning, recreation, and stewardship at the Feather River headwaters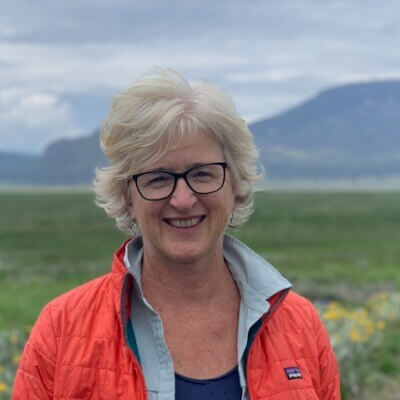 Katie Bagby
Donor Relations & Communications
Katie works with donors to raise a strong base of financial and community support to accomplish FRLT's mission and conserve the magnificent Feather River Country. Since 2009, she has co-led FRLT's communications, telling the story of what our members are making possible, now and for future generations.