Lake Almanor Conservation Easement
With fifty-two miles of lakeshore, spectacular views of Lassen Peak, and exceptional outdoor recreation— from boating and fishing to birding and wildlife photography—Lake Almanor is one of northern California's most beloved gems. Fed by the North Fork Feather River, Lake Almanor's waters and surrounding wetlands, meadows, and forests sustain vibrant communities of humans and wildlife alike.
Fast Facts
29,057 acres at Lake Almanor including Chester Meadows
Land protection status: Conservation Easement in progress
To be protected for: Clean water, wildlife habitat, recreation, scenic open space, history and culture
Rare or threatened species: 23
Landowner: Pacific Gas and Electric Company
Project Summary
FRLT is working with Pacific Gas & Electric Company (PG&E) and the Stewardship Council to permanently protect PG&E owned lands at Lake Almanor for the benefit of current and future generations. A conservation easement held by FRLT will restrict subdivision and detrimental land use changes on the approximate 29,057 acres of lands and waters owned by PG&E at Lake Almanor, including the reservoir itself. PG&E will continue to own and operate Lake Almanor under a license (2105) with the Federal Energy Regulatory Commission (FERC). The conservation easement will also ensure continued public access and ongoing recreation on the lake and surrounding PG&E lands.
This land protection effort is in progress and is expected to be completed by 2023. FRLT staff are currently performing due diligence activities and are working on the baseline documentation survey—a multi-month process of walking the lake shore, surrounding meadow, and forest lands. We're establishing monitoring points and recording observations, which we'll use to complete the Baseline Documentation Report. The report will document existing conditions on the property, inform drafting of the conservation easement agreement, and will be used for annual monitoring visits by FRLT. The report must be completed and approved prior to recording the conservation easement.
Photo by Betty Bishop
Photo by Vincent Rogers
Photo by Ryan Burnett
Photo by Norm Williams
Project Background and Context
Following the bankruptcy of Pacific Gas & Electric in 2003, PG&E entered into a settlement agreement known as the Land Conservation Commitment (LCC). The settlement agreement requires the permanent conservation of 140,000 acres of forests, meadows, streams, and wetlands across the Sierra Nevada and Cascade ranges, to be protected for their conservation values and for the people of California. Approximately 44,000 acres of these watershed lands are within the upper North Fork Feather River Watershed.
FRLT has been working to permanently conserve these Feather River Watershed lands, including Lake Almanor, Mountain Meadows Reservoir, Butt Valley, Bucks Lake, and others, with conservation easements. In 2004, FRLT entered into a Programmatic Letter of Intent with the Stewardship Council for the conservation of approximately 44,000 acres across 9 properties in the Feather River Watershed. Since that date, FRLT, Stewardship Council, and PG&E have entered into individual transaction agreements associated with each property—including the one currently in progress at Lake Almanor.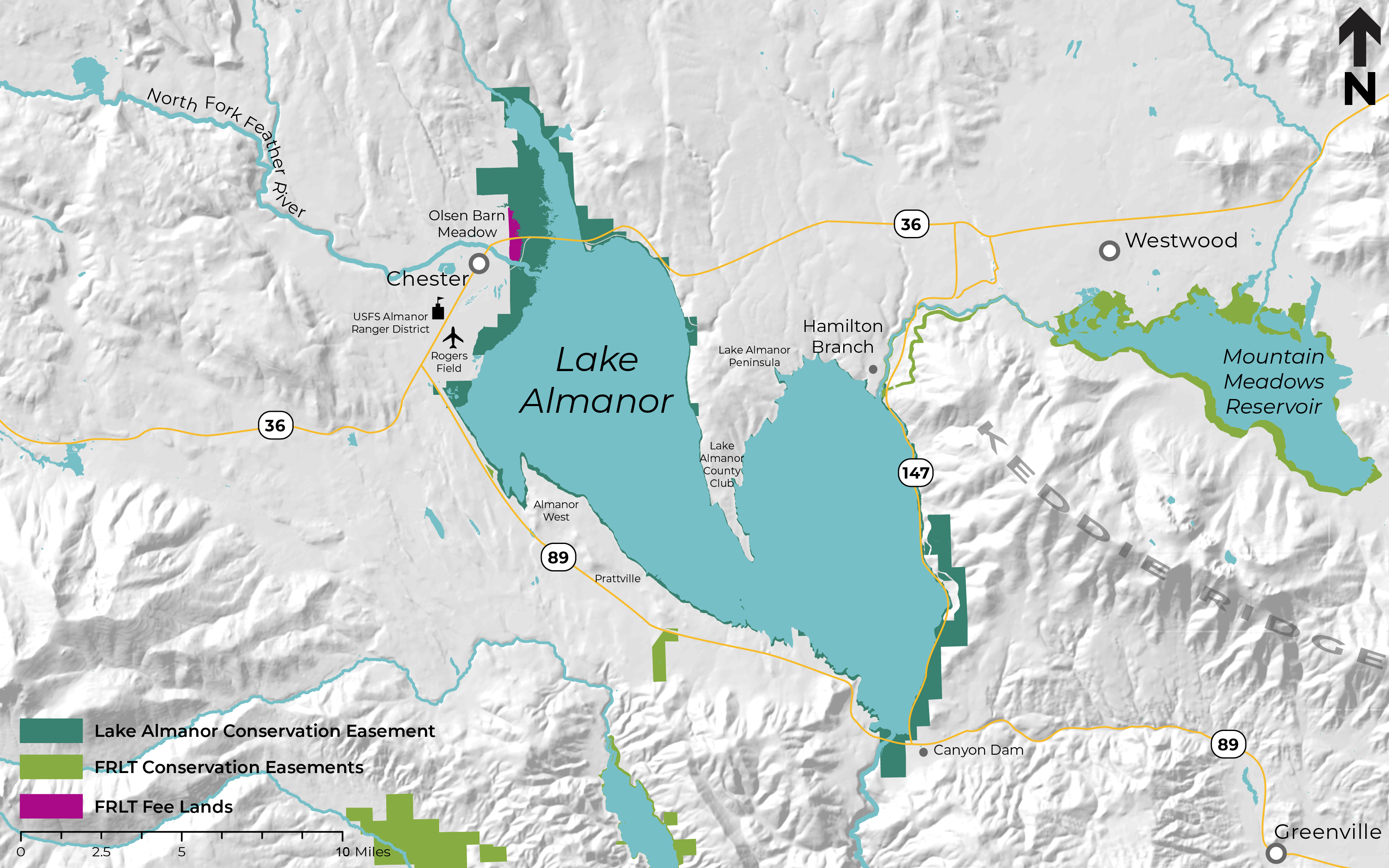 Why Conservation?
Since 2000, the Feather River Land Trust has worked to protect private lands for the public good in the Sierra Nevada's largest watershed, the Feather River —a source of drinking water for 27 million people. Protecting Lake Almanor is consistent with our goals, which include protecting clean water, wildlife habitat, working landscapes, public recreation, and cultural sites. Conserving PG&E's Lake Almanor lands with a conservation easement will permanently restrict subdivision of the reservoir and Chester Meadows (restricted subdivision and no private development outside of the current leased areas) and ensures the preservation of open space. These lands and waters are a tremendous asset to our regional economy and local communities and sustain a diversity and abundance of birds and other wildlife.
Beneficial Public Values
The conservation easement at Lake Almanor will protect multiple features and values that benefit the public. PG&E and the Stewardship Council refer to these as "Beneficial Public Values." Conserving PG&E watershed lands is driven by the following Beneficial Public Values:
protection of the habitat for fish, wildlife, and plants
preservation of open space
outdoor recreation by the public
sustainable forestry
agricultural uses
historic values
Connect with us
Sign up for conservation updates
Frequently Asked Questions
What is a conservation easement and who will own the lands at Lake Almanor?
A conservation easement is a legal agreement between a landowner and the land trust to permanently protect private land and limit development, subdivision, and changes to land-use. For the proposed conservation easement at Lake Almanor, the 29,057 acres currently owned by PG&E will be put under a permanent conservation easement held by FRLT. The Lake Almanor lands currently owned and operated by PG&E will continue to be owned and operated by PG&E. If the property were to change ownership, the conservation easement will remain with the land forever.
What impact will the conservation easement have on water at Lake Almanor?
PG&E holds water rights to divert, store, and use water from the North Fork Feather River and its tributaries primarily for its hydroelectric projects, although some of PG&E's water rights authorize use of water for consumptive purposes (for example, agricultural use).
Fisheries and lake levels are managed between PG&E and the State of California. The Water Resources Control Board is the state agency that oversees water rights, water quality, wastewater management and several other water-related topics. The California Department of Fish and Wildlife manages fish, wildlife, plants, and habitats for the health of their populations and for enjoyment by the public. The conservation easement will not have a direct impact on water levels or water management by PG&E.
PG&E has a contract to deliver and/or supply 145,000-acre feet of water annually for agricultural irrigation. Actual delivery occurs through the California Department of Water Resources to the Western Canal Water District from the Hamilton Branch facility, and four other facilities (Upper North Fork Feather River, Rock Creek-Cresta, Poe, and Bucks Creek), each of which contribute water to fulfill this contract. The Western Canal Water District holds the water rights to this contract and the agreement cannot be altered except by mutual consent. PG&E can use the water to generate power and has some discretion over the timing for delivery of this water but must deliver it between March 1 and October 31 of each year.
Under the terms of the conservation easement and Settlement Agreement, FRLT will not have enforcement authority over water-related issues.
Does the conservation easement have anything to do with the Thermal Curtain?
No. As a conservation organization, FRLT is concerned about any project that could impact water quality, wildlife habitat, cultural resources, and other beneficial public values at Lake Almanor. However, the conservation easement we're developing with PG&E at Lake Almanor will not address water management at the Lake due to pre-existing water use agreements (see above).
Will public access to the lake and surrounding PG&E lands change?
Authorized public access to PG&E lands will continue, and the conservation easement does not impose any changes to existing authorized uses. PG&E has committed to making numerous public access improvements following the approval of the Federal Energy Regulatory Commission 2105 license. Existing unauthorized access points are being documented. PG&E will work to reduce non-authorized access and uses of their lands consistent with their existing land management prescriptions.
Will the conservation easement prohibit hunting?
No. Hunting and fishing are permitted in authorized areas on the PG&E Watershed Lands, in conformance with state and federal rules, regulations, and law, including certain areas in the proposed Lake Almanor conservation easement. Hunting and fishing are specifically listed as examples of uses to be protected by the conservation easement.
Are dogs allowed on the Lake Almanor conservation easement?
Dogs are permitted in accordance with PG&E rules and regulations. The conservation easement does not change any existing permitted uses.
Will the grebes be protected?
FRLT has identified Western & Clark's Grebe's breeding habitat as a beneficial public value for the Lake Almanor easement. While the easement does not give FRLT the ability to regulate water levels, FRLT plans to work with PG&E to ensure this value is sustained at Lake Almanor. Specifically, it is FRLT's position that water level management has negatively impacted nesting success of the grebes. We support ongoing monitoring and a science-based approach to guide water level management, such as that developed by Plumas Audubon, now and into the future.
I have a lease at Lake Almanor. How will this impact me?
Existing leases—including leases for resorts, boat docks, marinas, and public infrastructure—are expressly permitted under the terms of the conservation easement. FRLT has no role, right, or responsibility to monitor and/or enforce the terms of any lease agreements that are issued by PG&E.
What is the status of the FERC 2105 relicensing?
The State Water Board issued a Final Water Quality Certification for the Upper North Fork Feather River Hydroelectric Project on July 15, 2020. It is unclear at this time when the 2105 license will be completed. FRLT is not involved in the FERC licensing process.
Have more questions?
Contact FRLT at 530-283-5758 or visit the Stewardship Council's Land Conservation page.
Explore Lake Almanor Region conservation projects
Mountain Meadows Reservoir
Conservation Focus
Tásmam Koyóm (Humbug Valley)
Conservation Focus
Home Ranch
Conservation Focus
Butt Valley Reservoir
Conservation Focus
Maidu Cemetery
Conservation Focus
Maidu Forest
Conservation Focus
Maidu Trail
Conservation Focus
Warner Valley
Conservation Focus
Maidu Wetlands
Conservation Focus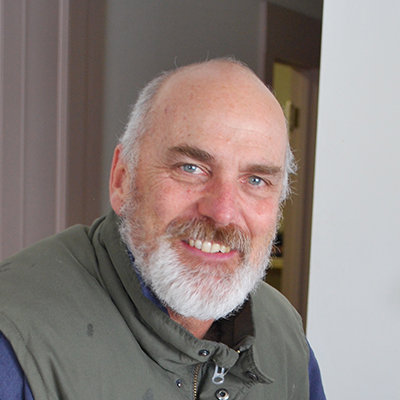 Shelton Douthit
Executive Director
As Executive Director, Shelton leads FRLT as it fulfills its land saving mission. Shelton works with the Board of Directors, staff, and partners to move projects forward while ensuring the health of the organization and its key parts, including the staff. Shelton has 20+ years of land protection and conservation easement transaction expertise.